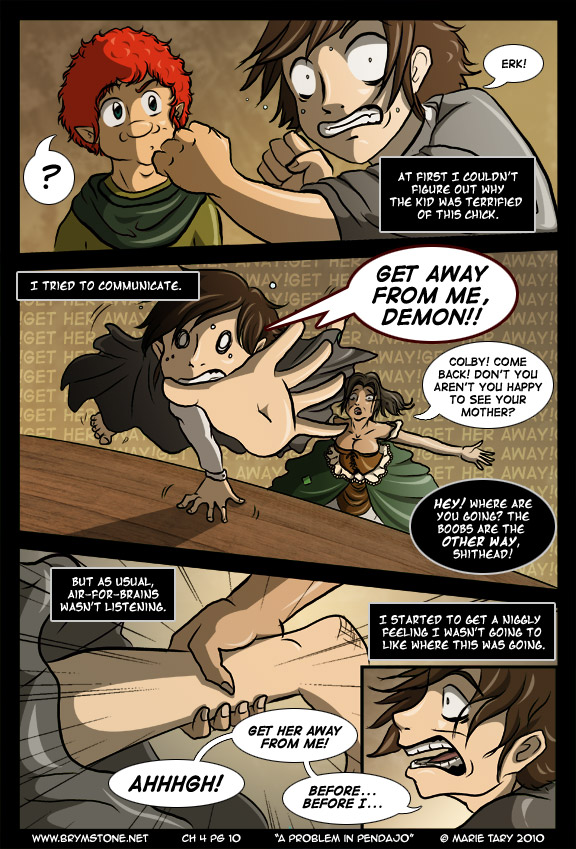 Rushe really doesn't want 'mommy' to hug him, and you'll find out why next week. 🙂
I know, I'm evil. XD I do apologize that I ended up skipping last week's update. I was actually pretty annoyed with myself, but I am still recovering from surgery and I have these periods of exhaustion that just sap the life from me, couple that with having a flu, and well.. yeah. I just ran out of time. I'm sure that will improve though as time goes on. Having livestreams helps too, since I can be kinda focused when I'm yacking about what I'm doing.
Its good to see people liking the facebook pages, keep it coming. 🙂 I also have a tumblr account now, although I really haven't totally figured out how I want to use it. But if you are into tumblr, feel free to follow me. I do have a poll up right now there if you would be so kind as to give some feed back as to what you use to stay informed. If you use other things you think I should know about, feel free to leave it in the comments! I try to notify people all over the place, especially given that my update schedule is still erratic, although improving.
On a really positive note, I submitted the Raif wallpaper I did (Raif in Fire) to Elfwood, and got a Moderator's Pick! It only took 13 friggen years, but I finally got one. HAH. (If you poke around on elfwood you can see some REALLY old art of mine. It only proves that, yes you too can improve if you kick your own ass for a decade or so.) If you haven't seen the new wallpaper its in the gallery at 800×600, but if you want the full, large rez versions, you'll have to login to the site (or register, if you haven't) and you'll get a nifty option under the gallery called 'wallpaper' where you can download the high resolution of all the wallpapers I've done and in the future I will do. I'll likely be adding more site member features, so its worth registering, You will also be registered for the forums! Which really need some love..
Anyway, enjoy Rushe flipping out.
Discussion (21) ¬