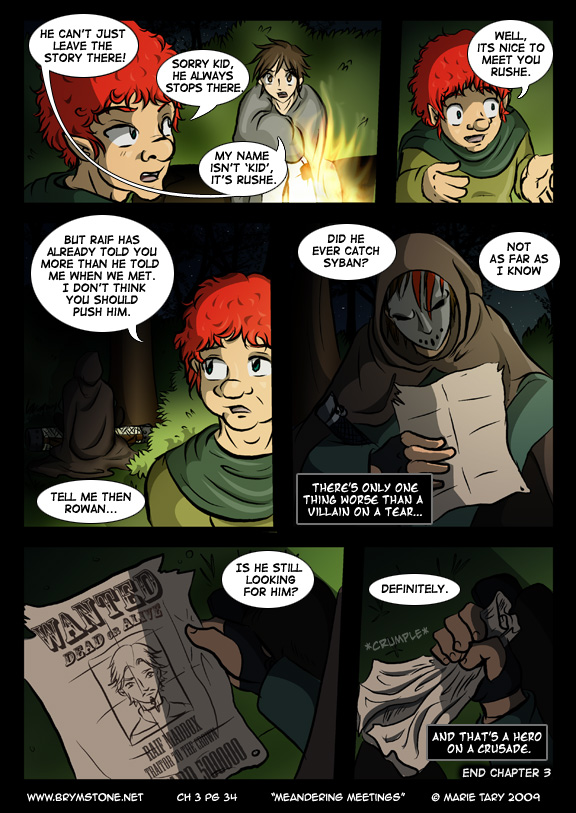 And so it ends…
The chapter that is! WHOOT! FINALLY DONE! This makes me a very happy person indeed as now I get to move on to many wonderful things such as:
introducing the last main character!
revealing Rushe's secret phobia!
getting into the meat of the plot!
blowing up stuff!
And the list is long indeed!
So Xmas is coming up, and I'm wondering if people would be interested in any Brymstone stuff for gifts and what not. Snarky T-shirts? Colorful calendars? Prodigious posters? Printed comics? Any suggestions or requests? I'm still pondering submitting a design for a toy to PatchTogether, but I'm not sure what yet. I thought Darshe might make a cool toy, but it I think I'd have to actually show some artwork to get people excited.
Also, I'm looking at doing something a little special for the holidays here at the site, for the fans, for the members that I can get in contact with at least. Maybe a little contest, or some kind of digital xmas goodies.  I'll post more as this comes, but if there is something you'd like to see, or think would be a good gift to you, the readers, please, leave a comment.
*coughs* Yes, anyway, don't forget you can become a fan of Brymstone on facebook, follow myself or Darshe on twitter, vote on TWC, or just show us link love by linking in your blog, facebook, myspace, whatever. There's even nifty graphics. 🙂
Discussion ¬